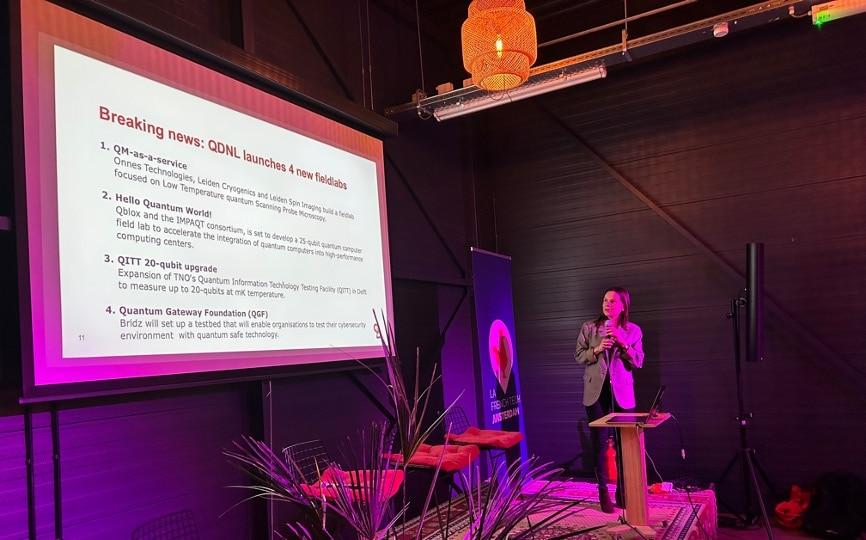 13 March 2023
Juliette de la Rie
Quantum Delta NL announces the winners of Quantum Field Lab call
An advisory committee of scientists, investors and entrepreneurs selected the four initiatives from a total of seven project proposals based on the following criteria: alignment with Quantum Delta NL's agenda, technological and commercial potential, and economic and social impact. The four winning proposals will receive a maximum of 50% of the total project budget in funding to create the necessary field lab infrastructure and cover running costs.
End-user focused call
This call is aimed at the creation of field labs where end-users can become familiar with quantum technology and can explore and test use cases. Quantum Delta NL aims to build a vibrant ecosystem of students, researchers, entrepreneurs, and investors to bring quantum technology to the next level. The field labs will help create economic activity around a theme or service and will help to accelerate innovation and apply technology in actual practice.
Raoul Oostenbrink, Lead SME & Field Labs
"Through field labs, ideas are tested and validated with end-users in an early stage, and economic activity is created around a theme or service by promising quantum companies and scientists. The proposals demonstrate great ambition, and I am looking forward to the actual impact they will have in the coming years "
Dimitri van Esch, Founder Quantum Gateway Foundation
"Being awarded by Quantum Delta NL signals belief and trust that Quantum Gateway Foundation is a great approach to give end-users a low threshold to enter the Quantum community and become Quantum safe. This is an enormous boost to our project and motivation"
About the winning proposals
Hello Quantum World!
Qblox, in collaboration with Innovation Quarter, Demcon and other Dutch partners, is set to develop a 25-qubit quantum computer field lab with an open-architecture approach. This project aims to accelerate the integration of quantum computers into high-performance computing centres by exploring value-chain-based quantum computer development. The field lab will serve as a testing ground to expedite the technology required to create quantum computers capable of solving commercially interesting problems in drug design, material design, and logistics optimization.
QITT 20-qubit upgrade
The QITT 20-qubit upgrade project, from TNO, aims to expand the quantum testing capabilities of TNO's Quantum Information Technology Testing Facility (QITT) in Delft. The QITT Field Lab will be upgraded to measure up to 20-qubits at mK temperature and will feature increased automation for quantum device measurement and validation. This unique facility in Europe can aid companies in the development cycle of quantum computers and related components, thus boosting the competitiveness of the quantum technology supply chain.
QM-as-a-service
Onnes Technologies, in collaboration with Leiden Cryogenics and Leiden Spin Imaging, will establish a field lab focused on developing Low-Temperature quantum Scanning Probe Microscopy, also known as Quantum Microscopy. The field lab will build and make available the low-temperature infrastructure that is necessary for exploratory activities in the application of novel quantum-enhanced sensing probes. The aim is to demonstrate the use case of single-spin resolution microscopy for academic and industrial markets.
Quantum Gateway Foundation
Quantum Gateway Foundation (QGF), spearheaded by Bridz, will set up a testbed that will enable organizations to test their cybersecurity environment with quantum-safe technology. QGF will help its members and customers to start their journey to a quantum-safe cryptography landscape without them having to dedicate large amounts of resources. QGF provides education, support and access to the latest technologies, protocols and tools (including PQC, QKD, and QRNG). Its 'Discover, Design, Protect' methodology will deliver valuable insights, results and metrics to create a future-proof cybersecurity environment.