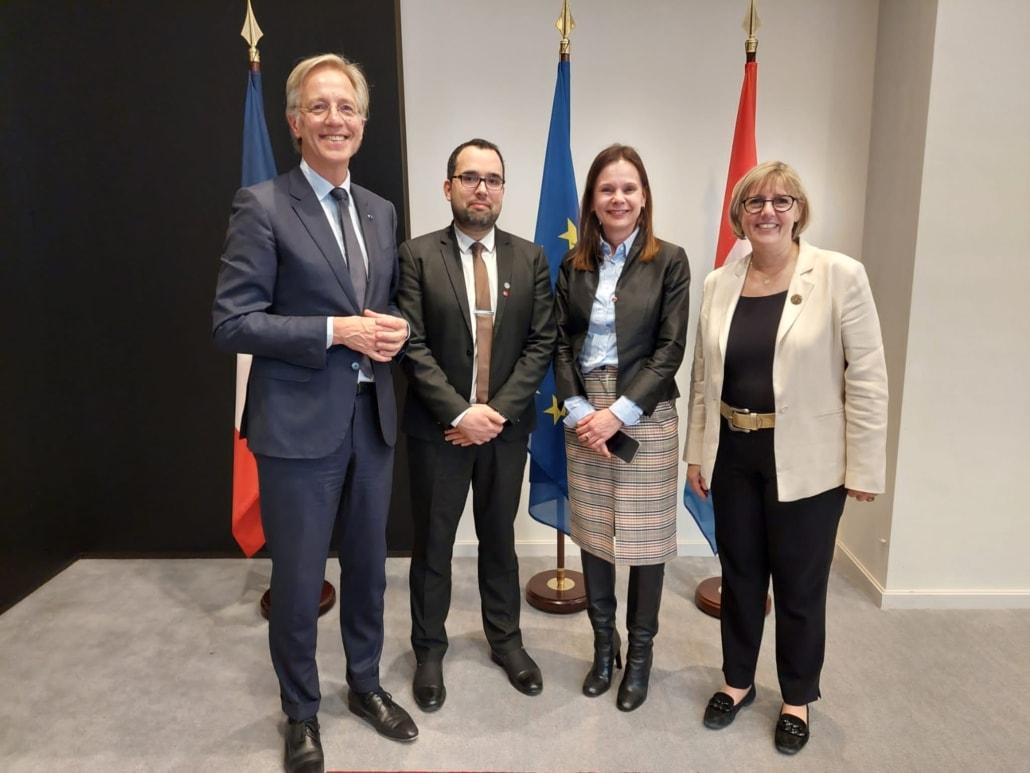 19 December 2022
Juliette de la Rie
The Netherlands, France and Germany intend to join forces to put Europe ahead in the quantum tech race
Delft, 19 December 2022 – The Dutch, French and German national governments have signed a joint statement on their intent to strengthen collaboration on quantum technology, in support of a joint European agenda to lead the development in this field.
To meet the challenge of European (open) strategic autonomy in this technology area, and to create the basis for future European leaders in quantum, Guido Biessen, the Dutch Acting Director-General for Enterprise and Innovation, Bruno Bonnel, the French Secretary General for Investments and Ina Schieferdecker, the German Director General for Research for Technological Sovereignty and Innovation signed a Joint Statement On Cooperation in Quantum Technologies. Its aim: to increase the synergies between the Dutch, French and German ecosystems and achieve the critical mass needed to help develop European leaders and attract the best international talents.
Quantum technologies are among the few key digital technologies that have emerged in Europe, and it requires collective effort to make Europe leading in this emerging industry. By signing this joint statement amongst the three leading quantum countries in quantum technologies the signatories wish to consolidate their trilateral cooperation in R&D efforts and accelerate private synergies that will lay the foundations for European quantum businesses across the continent.
Through the respective national quantum initiatives, such as Quantum Delta NL as the foundation in charge of coordinating the Dutch national quantum programme, plus the R&D programmes of the European Commission, Europe is by far the world's leading investor in quantum. Cooperation between member states is the key to their collective success.
 Ulrich Mans, Strategic Partnerships Lead at QDNL Programme Office: "The quantum landscape across Europe is changing fast. With this initiative, we can accelerate joint projects that support our growing start-up ecosystem. France and Germany are leading quantum partners for the Netherlands, and we look forward to deepen existing links between our countries."
The parties wish to have an informal information exchange and to meet on a regular basis. The aim is to exchange views on recent developments in the fields of research, education, policy, implementation and use case development in quantum technologies; explore possibilities for effective coordination and Cooperation in this field, and to improve alignment across policy and funding priorities. The parties are already exploring active collaboration on workforce growth and talent development, supply chain enforcement and technological leadership development.